Chocolatiers are artisans who melt and temper chocolate couverture to re-form it into a bar, a bonbon, a confection, a truffle or another chocolate product.

Chocolatiers begin their creative process with chocolate couverture made by a chocolate maker. Similar to a chef (and often trained as a pastry chef), chocolatiers bring their palates and artistry to the table to marry a chocolate's flavor profile with complementary ingredients that may include herbs, spices, fruits, nuts, caramels, cream, chili or salt to create chocolate bars, bonbons, caramels, confections, truffles and other chocolate products.
Even when two chocolatiers create similar products using the same couverture the products are different because they reflect the personal experiences and tastes of the individual chocolatier. In addition to creating confectionery products for consumption, chocolatiers may also be experts at creating chocolate sculptures that require them to temper, mold, color and shape chocolate into elaborate showpieces.
Chocolates made by a Chocolatier often have a short shelf life due to perishable ingredients, such as cream, that can be included in truffles and bonbons. This is in contrast to chocolate makers who produce chocolate couverture that has a long shelf life.
The skills required to be a Chocolatier are different from those of a chocolate maker. While some artisans choose to be either a Chocolate Maker or a Chocolatier, some are both. Many small-batch chocolate makers transform their chocolate into confections using chocolate they refined from the cocoa bean and work as both a chocolate maker and a chocolatier.
In preparation for the Valentine's Day holiday, chocolatiers mold thousands of bonbons and fill them with flavors that signify love or are red or pink in color. Popular fillings include passionfruit, raspberry and strawberry.
Próximamente versión en español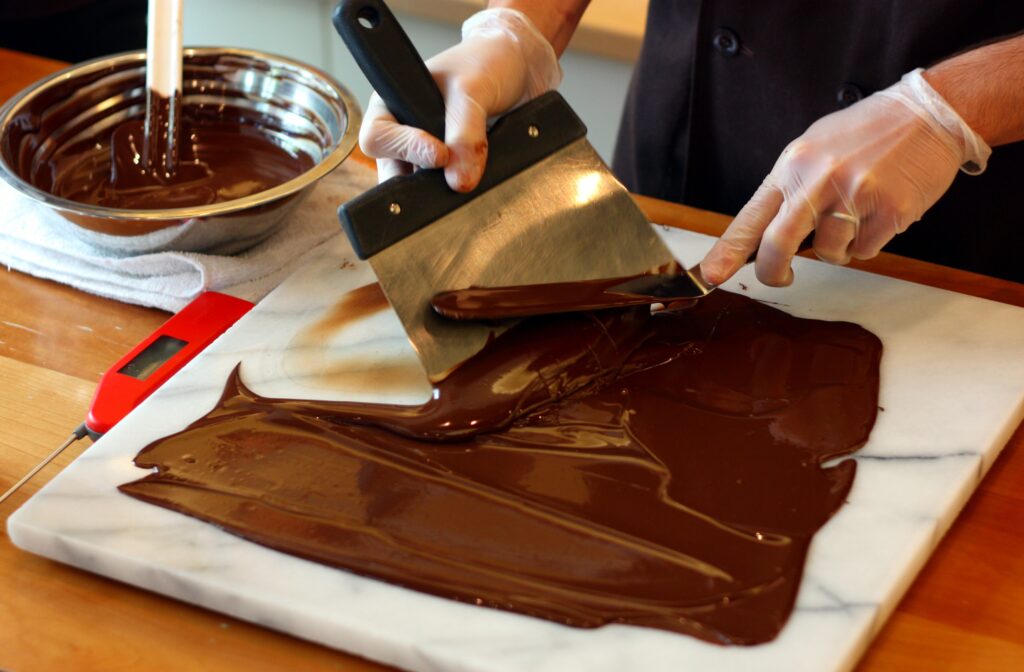 ---
Entry added: January 25, 2023
Verified on: September 14, 2023
Authored by
Lauren Adler, Chief Chocophile / Consultant
FCIA Board / FCIA working committee
References
"Chocolatier versus Chocolate Maker – what's the difference?," Ecole Chocolat (accessed on February 3, 2023).
"Chocolatiers and chocolate-makers," David Lebovitz, January 14, 2007.
"Chocolate Makers vs Chocolatiers," Tess Pitzer, Maui Chocolate & Coffee Tours, July 7, 2021.
"Chocolate Glossary," Cocoa Runners, May 1, 2022.
Have a comment on this definition?
Related Entries