Whereas traceability is the map of cocoa's physical journey from farmer to end product, transparency is the willingness to share the map, which shows the physical journey that cocoa takes from grower to chocolate maker.
Transparency fosters collaboration in the fine chocolate industry, not duplicated efforts. It allows chocolate makers to communicate quality as it relates to evaluating equity, traceability, impact, and positive change in the value chain.
The specialty trader Uncommon Cacao further defines transparency as "verifiable, published pricing for every transaction related to a cacao purchase along the supply chain, including information about who produced it and where."
In the fine/craft chocolate segment, the first company to produce a transparency report was Taza Chocolate, based in Somerville, Massachusetts, in 2011. Since then, numerous chocolate companies have published a transparency report, sometimes also called a sourcing report or an impact report.
Próximamente versión en español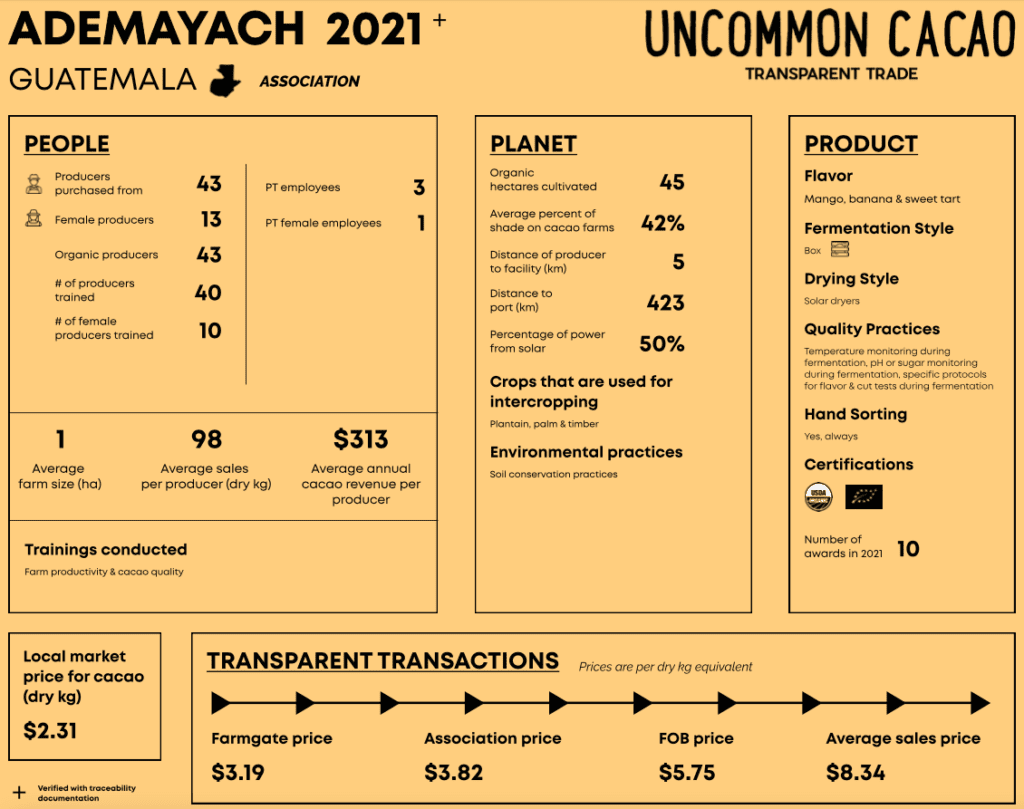 ---
Entry added: August 13, 2022
Verified on: September 14, 2023
Authored by
FCIA Value Chain Committee
NGO Professionals
Stasi Baranoff, Impact Consultant
Supply Chain Professional
References
2020 Transparency Report, Uncommon Cacao, December 21, 2021
Annual Cacao Sourcing Transparency Report, Taza Chocolate, September 2011
"Transparency in Business: 5 Ways to Build Trust," Mike Kappell, Forbes, April 3, 2019
"Why is it important to have transparency in business?" Gemma Hart, MyHRToolkit, March 2, 2022
Have a comment on this definition?
Related Entries